Beyond the Data Frontier
Top 10 Trends You Need to Know
Published September 2019
---
STAY UP TO DATE ON THIS TOPIC
Check the boxes & select Email or Atom/RSS Feed.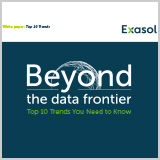 2019 is already shaping up to be an interesting year. The accelerating rate of change in business, combined with new emerging technology innovations, is expected to provide both challenges and opportunities for business and IT decisions makers. Digital transformation (DX) remains at the heart of leading organisations' efforts responding to these pressures. Indeed, IDC believes by 2022, 60%+ of global GDP will be digitized, with growth in every industry driven by digitally enhanced offerings, operations, and relationships.
What lies at the centre of this digital movement is data. Good data is the fuel for DX, whereas low quality, inconsistent or poorly formatted data can derail it. The ability to harness data effectively is what marks many leading organisations out from those who are struggling. These companies are using analytics applied to data to expertly guide business decisions that have often been guided by gut instinct and intuition in the past. This push toward greater data use and reliance means many more organisations are structuring business projects around the delivery and use of data. In other words, they're striving to become more data-driven.