Webcast: Making IT Work In The Real World
A discussion of Open Source, Proprietary and Hybrid Environments
---
STAY UP TO DATE ON THIS TOPIC
Check the boxes & select Email or Atom/RSS Feed.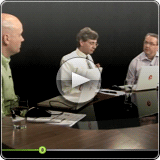 Watch The Register's expert panel as they discuss the benefits, costs and risks of proprietary, open source and hybrid environments.
This webcast explores the oft-debated theory that businesses benefit more from using open source-based solutions than those supplied from traditional proprietary software vendors, and how this differs to the reality in which there are very few closed shops.
Tune in as experts from The Register, Novell, Freeform Dynamics & Microsoft deliver a wealth of practical advice and real world insight on topics including; what businesses adopt when it comes to open source and proprietary, how open source and proprietary can fit side by side, making interoperability work, Novell and Microsoft working together and selling in the ideas and getting started
This webcast is free to watch, you will need to sign into your El Reg account in order to view.