Zero Trust: securing the endpoint
How continuous authentication could help secure the work-anywhere world
Published August 2020
---
STAY UP TO DATE ON THIS TOPIC
Check the boxes & select Email or Atom/RSS Feed.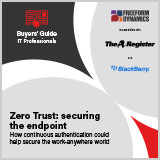 Long gone are the days when an organization's ability to secure its IT largely matched its ability to secure its physical network. Today, your users - and perhaps more importantly, your valuable data - can be almost anywhere. Mobile and remote working was on the rise even before the Covid-19 pandemic accelerated the process, and now it is near-ubiquitous.
So the 21st century network edge is not your office: it's your house, pocket, wrist, or anywhere else that your connected business technology happens to be. That's also now where the 'attack surface' is, and therefore where the threats are, too. That means endpoint security is essential - we all make mistakes, and increasingly we are all targets for malicious operators. Indeed, our mobile devices need even more protection than our office PCs, partly because they move but also because they are often not centrally managed.
Download the full buyer's guide to read more...