Digital Document Processes In 2020: A Spotlight On Financial Services
A Forrester Consulting Thought Leadership Paper Commissioned By Adobe
Published September 2020
---
STAY UP TO DATE ON THIS TOPIC
Check the boxes & select Email or Atom/RSS Feed.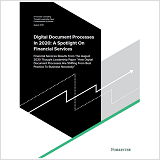 As the COVID-19 pandemic sweeps change across the globe, financial services firms have found themselves managing incredible levels of demand and providing support for some of the worst-affected companies while simultaneously adjusting to a new working normal. Decision makers in the industry are forced to pivot and rethink their priorities to continue operations in increasingly complex conditions.
In this new environment, what is the value of digitizing document processes? How is it helping financial services firms? How important will it be as they move beyond the pandemic?
Adobe commissioned Forrester Consulting to answer these questions and evaluate how digital document processes are supporting business continuity. Forrester conducted an online survey with 450 senior IT and business decision makers based in North America, Western Europe, and APAC with responsibilities for digital document processing at their organization. We found that financial services firms are refocusing their attention on digital document processes and recognizing these solutions as more than just operational tools. The solutions are enablers of good customer experience (CX) and employee experience (EX), and they unlock new business opportunities. Because of this, initiatives to digitize document processes will continue to grow and become standard protocols in financial services firms. It's a foundational step that will continue to elevate digital maturity in the industry.